It's been a more than strange year has 2021 and the usual mix of what I do for my work has been very different to the preceding dozen or so years in particular. Instead of far flung trips for guiding and my own project work it has been a year exclusively based in the UK which of itself is a first for a very long time, so when I headed up to Shetland a few weeks back it felt very different to any other time I've headed up to these fantastic islands that I have a huge affinity for.
This was in part because all of my previous visits had been from Spring to late Summer with seabirds at the heart of my priorities, so the concept of short days and even more unpredictable weather was something very different to be ready for – even if it did throw up the opportunity to play at landscape photography at times – something that fitting into the long days of summer visits would mean no sleep as opposed to next to none!
Part of the reason for visiting this late in the year is that it is one of the best times to work with otters and the islands here have probably the greatest density of coastal otters anywhere in the UK (and some might argue the world) and at this time of year you families are at their most active and for the next few months potentially engaging from a photographic point of view as well.
I was guiding a small group for Natures Images and working alongside long-standing friends and local otter experts Brydon Thomasson and Richard Shucksmith too along with their colleague James Rogerson, so I knew that if the conditions allowed it had the potential to be an excellent week in an environment and set of islands where I always feel very much at home too.
Working with otters requires exceptional fieldcraft and knowledge of the specific families – tides need to be right in terms of when they will feed rather than sleep, understanding the topography of the coastline in relation to the wind direction is essential and so lots of walking, crawling and fast movement when required is necessary but creeping slowly up on a small family or a reuniting mother and older cub as they rest on the rocks is always worth the effort, as is a brief glimpse of sprainting behaviour too!
One of the afternoons though was to prove to be a highlight of the whole of 2021.
It involved a young mother and her family of 3 cubs. We'd looked for her unsuccessfully a couple of days previously but after another patient wait and watch over the voe which made up their territory we spotted them and made our move to be in position where they came ashore, arriving while they were having a brief rest after a catch of some sort.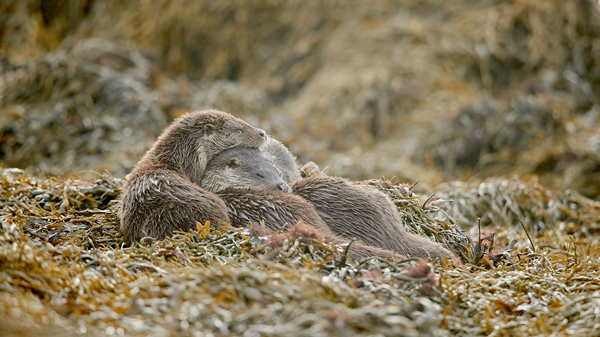 We settled in position full of expectation, but as always in these situations unsure of just how long we would get to be allowed to enjoy being in their company, unobserved witnesses to their family lives. We needed have worried and the 90 or so minutes that followed would have been a joy even without a camera to capture what was happening.
It began after Mum awoke and decided to head back out to sea to fish again, one of the cubs joining her in the water and the other two remaining in the seaweed covered rocks. They weren't content to just sit and wait though and were very soon embroiled in some full on play in only the way that young mammals seem to be able to do – carefree, no holds barred and for them I'm sure pure unadulterated fun.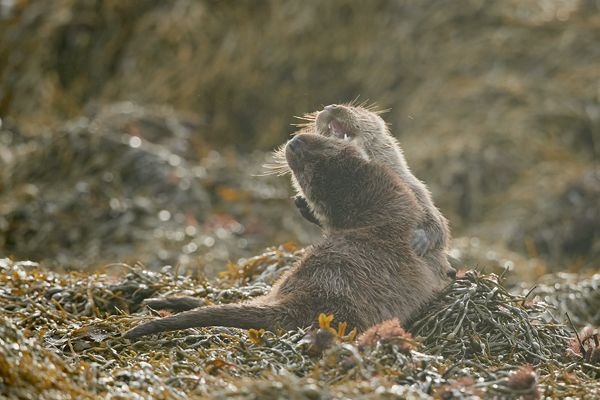 The light was quite challenging – low sun behind where they were drifting in and out from behind the clouds is not something you can reposition to work with a bit more favourably on occasions like this – but I did like the way that it would capture their whiskers in particular so made sure I kept a careful eye on exposures at all times – always a challenge when there is so much excitement going on in front of you as well as through your own adrenalin rush!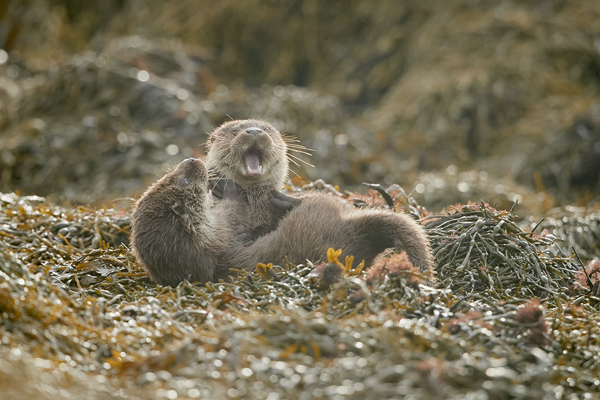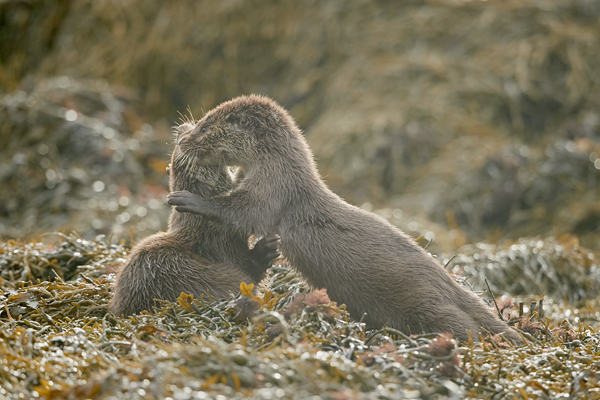 We've recently had two kittens (brothers as well, so very like these two in that respect) join us at home and the way that the young otters got stuck into one another as well as their facial expressions of both joy and surprise at times was almost identical to what unfolds in our living room of an evening.
At times their tussles would take them behind some of the nearby rocks but that just created an opportunity to capture a different type of image as heads occasionally appeared above them.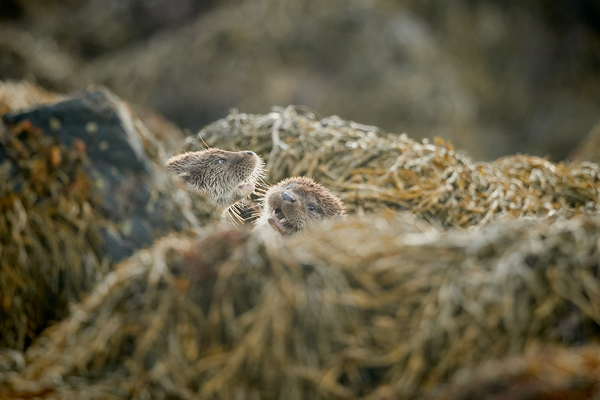 After Mum returned and another squabble over a crab or fish eventually abated and with the pair of them still wet from their dash in the water to greet her and their sibling, they simply began again but this time their wet fur and the resulting drops of water they were throwing off creating some additional ingredients to the image opportunities.
Their duels quickly dried them out though and they were back to the familiar tussles, rolls and general enjoyment once more.
After what seemed a brief but busy encounter (in fact it was almost an hour and a half) Mum decided enough was enough and the family heads towards and past us before heading out into the voe altogether, swimming off to where she had decided it was time for them all to get some rest as well as digestion time.
I've enjoyed encounters with otter families and many other species aplenty over the years that I have been fortunate enough to work with and around wildlife in what I'm fortunate to call my work. After a trying year (for all of us I know in many differing ways too) though there was something particularly touching about this one though. It felt like it was a reminder as to just why I do what I do and frankly always will as long as I am able to. To sit on a deserted shore in the company of wildlife unaware of your presence, engrossed in their own existence and activities in the carefree way that these youngsters did, provides moments that will always be special memories. I'm only glad that by capturing some of them I can be taken back there every time I look at them as well.