The tabloid headline writers love a good catchy description and after a particularly cold few days a couple of winters ago, the beast from the east was once again bandied around in anticipation of another severe cold snap last month. Predictably it didn't come to much but it provided some inspiration for my own headline when it came to trying to pull together the work I was able to do in the early stages of last autumn when a degree of moving around the country for photography was still possible: lockdown conditions still apply as I pen these words.
The post summer coasts of Lincolnshire and Norfolk have always been dear to me as they are part of my childhood memories as well as where my parents still live, and so in the early days of my professional photography days I would often use their home as a base for a project or in search of some specific image opportunities and although that isn't possible anymore, with international travel and guiding at a complete standstill, the chance to revisit some of my favourite places of yesteryear and simply immerse myself in photographing a location again for a few days was great to be able to do.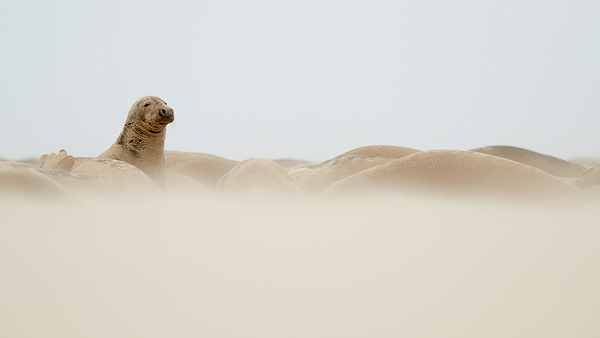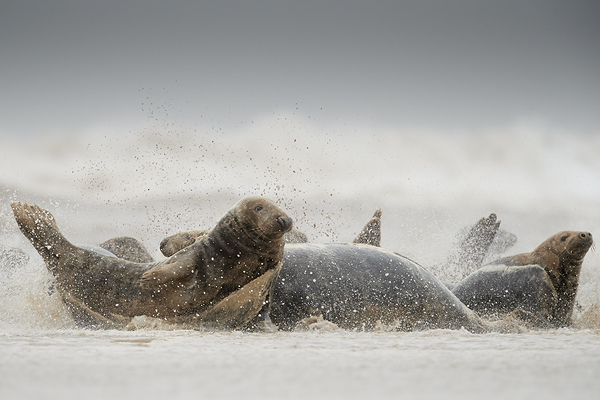 Both these coastlines are home to some of the biggest seal haul outs the UK has to offer. Although November and December have always been the most popular months for visiting these colonies I have always tried to avoid the peak season, partly to avoid the crowds but also because the type of intimate or environmental images I prefer necessitate a low viewpoint and slow patient fieldcraft is best done without others less patient than you wandering up asking what you're doing with the obvious consequences! It also means that I'm avoiding any risk of disturbance at the most sensitive time of grey seal pupping too and as cute as the white fluffy pups are I have no desire to put any species under undue pressure by my presence. With the seals at many haul outs all year and great group and individual animal images to be had by adopting a patient approach it's not necessary either – this cluster were so relaxed they waved their tails in an almost collective greeting it seemed too!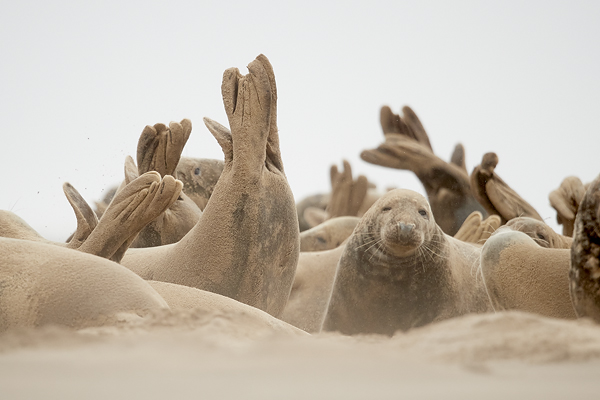 By slowly crawling away from the large groups it's possible to patiently pick out individuals either in the surf or on the beach too, and when lying on the sand the natural curiosity of seals soon takes over and they want to check you out as much as you do them, often making their own way to you to do so or lifting their heads to give you the once over.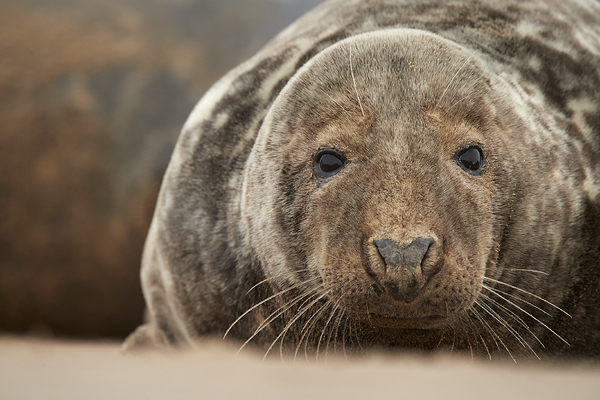 The weather was pretty wild the couple of days I was there with winds approaching 50mph which feels even more in an exposed beach location, but it did mean there were some great waves to include in the background of the images too, in this instance also incorporating another seal in the sea for compositional balance.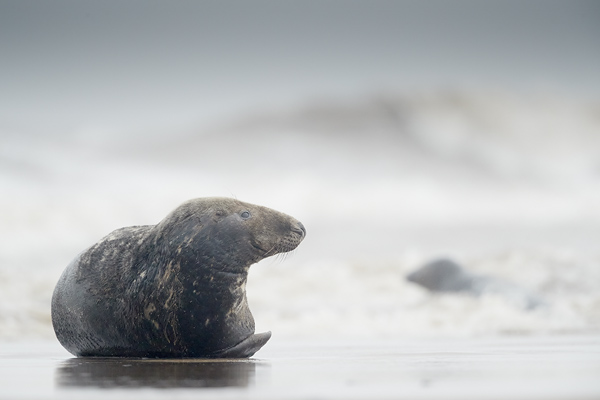 Seal colonies always attract waders too for whom seal droppings are an attractive food source, so watching this Sanderling struggle in the blowing sands, as well as the amazing shapes and the little peaks that the sand itself had formed was quite as absorbing as the seals themselves.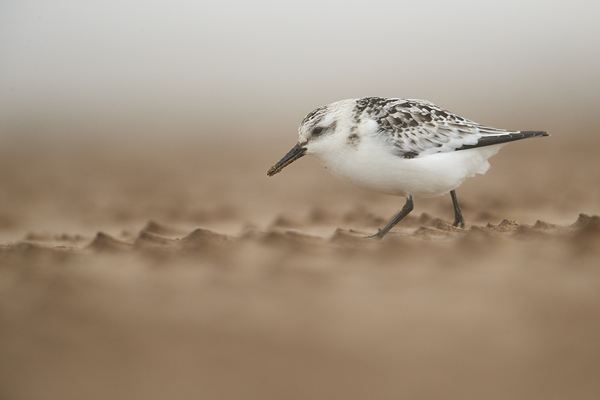 But trying to convey the wind, the exposed nature of the place and the sandblaster existence of the seals themselves was always going to be my main focus and these are a couple of my favourite seal images ever thanks to the conditions – the latter of these being a common seal pup, probably about 3 – 4 months old and living part from mum by now.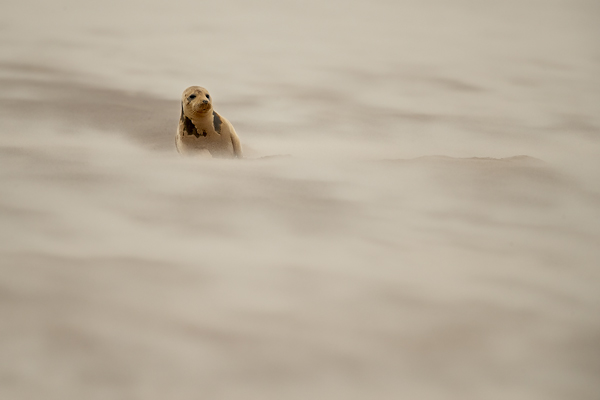 Across the other side of The Wash, the spring tide displays of the huge numbers of Knot and Oystercatcher that are forced closer to shore and on occasion into the waiting water-filled pits south of Snettisham have particular resonance for me: it's a good long walk to get here and my now well-grown up children remember battling the cold winds as I tried to persuade them it was a sight worth getting up early and walking through the conditions to be in place for! Even without them in tow it still is, and with a new viewing hide in place after storms destroyed the old ones a few years back it was great to be able to head down in the dark once again. I chose to spend my first dawn foray watching the displays out over the sea itself and was treated to a great spectacle in what for me was ideal light conditions: bright overcast and occasional glimpses of sun to lighten up some of the groups as they twisted and turned.
The next couple of mornings I arrived earlier to look to secure one of the limited places in the social-distancing hide. Many years ago there had been a very small one-man hide in the pit that I had managed to get the opportunity through the RSPB to use. I had had to arrive 3 hours before high tide and not leave until at least 2 hours afterwards in order to ensure no disturbance – it wasn't wise to enjoy a thermos of coffee whilst in there for that long! The views were exceptional though and on this my first visit to the new hide I was pleasantly surprised how good they were too and so with what I consider to be the perfect conditions to work in here (low even light allowing the slow shutter speeds that creative imagery needs along with the cool hues it brings too) it proved well worth the very early alarm calls once again.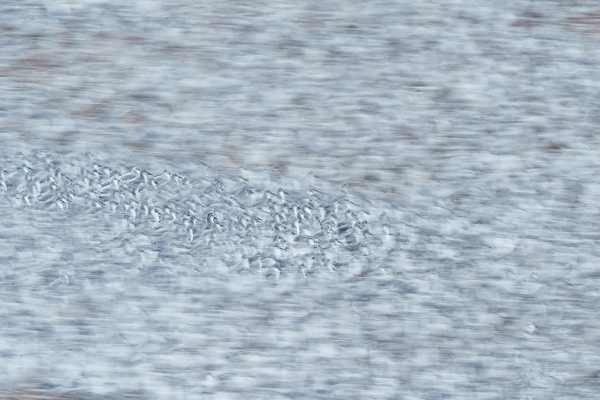 All in all a truly enjoyable few days of photography: in part I'm sure because the preceding months had been so lacking in the chance to even take a camera out of the house given the strict nature of the first lockdown, but also because these are great subjects to work with and after so much of my focus having been overseas for so many years it felt fresh and engaging to return to places of yore – they are the best of the east and will remain so for me I know.